We provide
Quality Equipment
We provide
Quality Equipment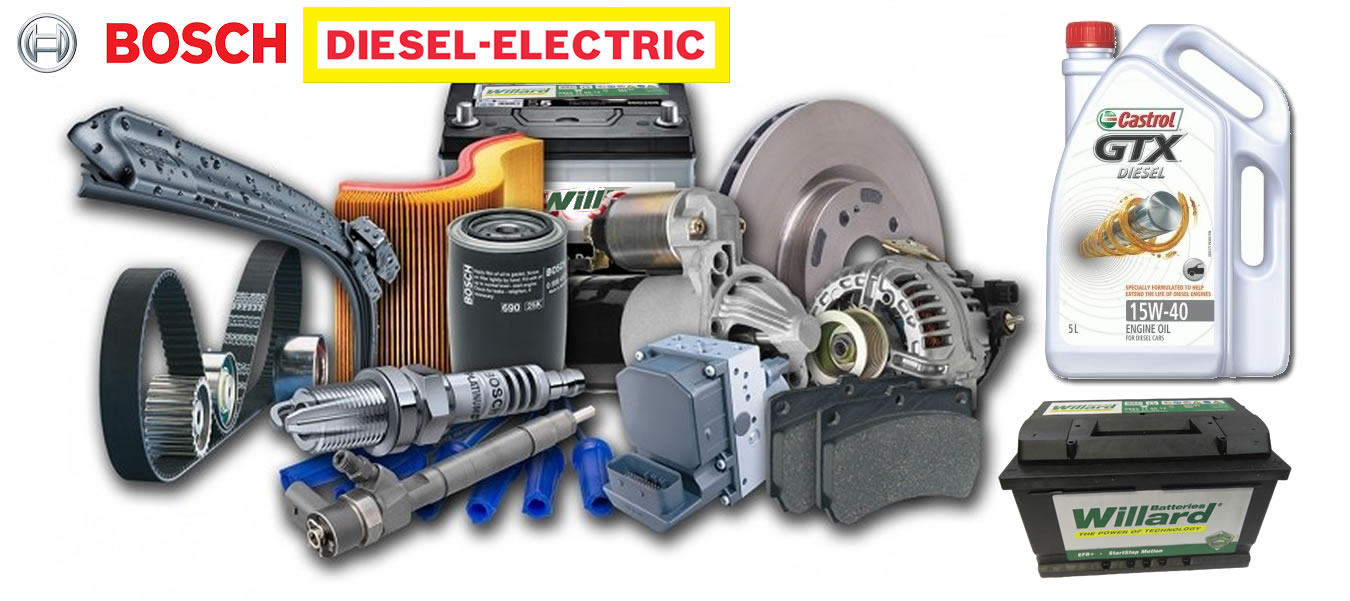 DIESEL ELECTRIC is a Robert Bosch Franchise supported by the South African DIESEL ELECTRIC AUTOMOTIVE WHOLESALE ORGANISATION.

The Diesel-Electric Organization is a network of independently owned, Bosch contract partners and franchise holders. The Organization supplies the needs of the Southern African automotive market for components, parts, equipment and information technologies.
The Organization also supplies especially to the partner workshop networks like eCar, Bosch Services and Auto Crew, general bumper-to-bumper automotive repair workshops and specialist repairers, garages, fleet operators, franchise dealers, as well as retail and wholesale parts stores. Diesel-Electric focuses its operations in the automotive fields of electrical, electronics, gasoline and diesel fuel injection, as well as general safety and service lines.
To this end Diesel-Electric supports, distributes and represents not only Bosch Automotive Products but also a wide range of prestigious automotive component brands such as Bosch, ATE, Ferodo, Gabriel, GUD, Hella, NGK, Osram, Ram, Sachs, Valvoline, VDO, Zexel and many others.
OUR VISION
TO BE THE BIGGEST AND MOST RELIABLE WHOLESALER FOR GENUINE AUTOMOTIVE PRODUCTS IN THE KINGDOM OF SWAZILAND.
TO PROVIDE STATE OF THE ART TECHNICAL SERVICE TO ALL MAKES AND MODELS VEHICLES IN SWAZILAND.
STRUCTURE
DIESEL ELECTRIC SWAZILAND is set up in the most convenient and reliable way because it has now incorporated a Vehicle Service and Fitment Centre in Manzini e-Car Service.
This gives our valued clients the guarantee and satisfaction in the quality of our products if they are fitted by our qualified technicians at greatly discounted rates.
The workshop is fully equipped to diagnose and repair faults on vehicle as well as fit parts according to the manufacturer's specifications.
DIESEL ELECTRIC has parts shop branches in Manzini, Matsapha , Mbabane, plus other associated companies Like Gaff Investments in Nhlangano and Siteki .
We deliver to our account holders all over Swaziland
CREDIT APPLICATION FORMS AVAILABLE IN ALL BRANCHES OR CONTACT THE GENERAL MANAGER +268 76024337